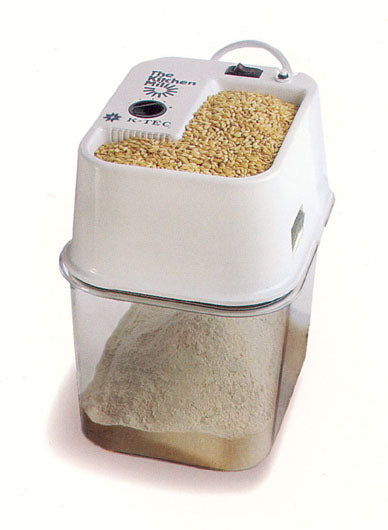 Blendtec Kitchen Mill
Regular price $360.75 Sale
---
Limited Items Selling Fast
poup with stuff in it
close
---
Blendtec Kitchen Mill
The Kitchen Mill is the result of thousands of hours of research and years of constant testing. Now you can enjoy the great taste of natural whole grain flour any time. It is always ready in an instant. The Kitchen Mill is compact, powerful, and built to last.

100% of nature's goodness: Whole grains are more nutritious than refined grains. Natural kernels of whole wheat, for example, contain 16 minerals, 10 essential vitamins, and at least 4 other vitamin factors generally found in bran and wheat germ. White flour, however, is refined from the endosperm and consists mostly of starch and a small amount of protein. It contains very little vitamins or minerals. Nutrition experts have joined in praise of the Kitchen Mill as a way to use 100% of nature's goodness to improve your health and nutrition.

Discover the great taste of freshly milled grains. Try milling different kinds of grains like whole wheat, rye, oats, rice, buckwheat, millet, corn, soybeans, barley, triticale and others. You will be delighted with the results.

An easy way to add fiber to your diet: Whole grains contain natural fiber. Diets containing adequate amounts of fiber help you stay slim and avoid many of the diseases caused by fiber deficiency.

Saving money: You can save money by milling your own flour and baking your own breads. Buying grain in bulk can add to your savings. In this way the Kitchen Mill will easily pay for itself. To find whole grains in your area, try several approaches; Call large health food stores and bakery services or call a local bakery and ask the name of their supplier.

A quality investment: The Kitchen Mill is made of the highest quality materials. The heart of the mill is a patented, stainless steel, Micronetic milling chamber. The mill is the most advanced way to mill grain. It has all the advantages of the old stone mills but none of their problems. There's no gumming, jamming or glazing. Your Kitchen Mill will not overheat. Each mill uses a 1.8 peak horsepower, 120 volt motor. It is permanently lubricated and will provide years of trouble-free service.
Features
Power: 10 amp
Direct-drive motor
Control: On/Off switch
Variable speed dial
Solid state electronics
Accessories: 60 oz. Container
Mill motor base
Mill pan
Cyclone cup
2 F filters
Specifications
Color White
Weight 8 lbs.
Width 8"
Height 10"
Depth 10"
Warranty
Motor: 6 Years (U.S. and Canada only)
Chamber & Pan: Lifetime
Products for home use only, commercial use of this product will void the warranty.
Real time shoppers on site
stock running low.