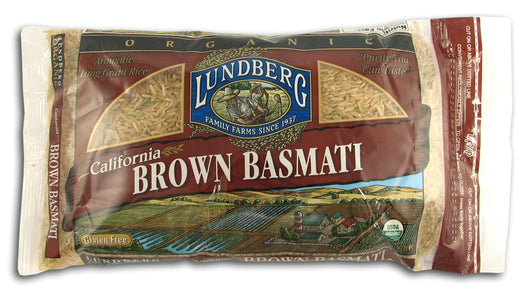 Basmati Brown Rice, Organic
Regular price $29.75 Sale
---
Limited Items Selling Fast
poup with stuff in it
close
---
Basmati Brown Rice, Organic
California Brown Basmati, Aromatic Long Grain Rice. Organic. Gluten Free. "Purity You Can Taste."
Lundberg Family Farms proudly presents organically grown California Basmati Rice. Our organic Basmati rice originates from India's Basmati seed. Prized for its aromatic qualities, this unique rice fills your home with the fragrance of popping corn while it cooks. This delightful popcorn fragrance and flavor is natural. Nothing was added and no special steps are needed to achieve this special aroma and flavor. It looks and cooks just like other long grain rices. Lundberg California Brown Basmati is one of the most flavorful rices you'll ever taste.
"Purity You Can Taste:" Lundberg Family Farms has been growing healthy, high quality, great tasting rice in Northern California since 1937. Our rice is grown using organic farming methods from prior generations and innovations from today. Our highest priorities include improving the soil while protecting the air, water, and wildlife.
- Rice straw is returned to the soil after harvest (instead of burning) to enrich the soil and protect the air and the environment.
- We use only approved organic inputs to grow organic rice.
- Our crop rotation practices include utilizing nitrogen-fixing crops for soil enrichment.
- Lundberg Family Farms does not grow genetically engineered rice varieties.
- The fields provide valuable habitat for a variety of animals. Migrating waterfowl inhabit flooded fields during the winter - they provide natural fertilizer and aid straw decomposition.
- We practice water-conserving irrigation.
- We purchase green power for our handling and processing facilities.
We care for our rice from planting to packaging to ensure you always receive the highest quality rice. We hope you enjoy all of our rice products. ~ Eldon, Wendell, Harlan and Homer Lundberg.
INGREDIENTS: Organic California Brown Basmati Rice.
Nutrition Facts
Serving Size: 1/4 cup, dry (46 g)
Servings per Container: about 20
Nutrient Amount %DV
Calories 160
Calories from Fat 15
Total Fat 1.5 g 2%
Saturated Fat 0 g 0%
Trans Fat 0 g
Cholesterol 0 mg 0%
Sodium 0 mg 0%
Total Carbohydrate 34 g 11%
Dietary Fiber 2 g 8%
Sugars 1 g
Protein 4 g
Vitamin A 0%
Vitamin C 0%
Calcium 0%
Iron 4%
Stove-top Cooking Instructions:
Servings (about 3/4 cup cooked rice) 2-3 4-6 8-10
Rice (dry) 1/2 cup 1 cup 2 cups
Water or broth 1 cup 2 cups 4 cups
Butter, oil, or margarine 1 1/2 tsp. 1 Tbs. 2 Tbs.
1. Combine rice, water, and butter (optional) in a pot with a tight-fitting lid.
2. Bring to a boil. Stir once. Cover with lid. Reduce heat to simmer and cook 50 minutes.
3. Remove from heat, let stand in covered pot for 10 minutes. Fluff with fork, salt to taste (optional).
(To prepare in rice cooker use same water-rice ratios.)
We recommend refrigeration for extended shelf life.
Gluten Free.
Kosher K.
Real time shoppers on site
stock running low.