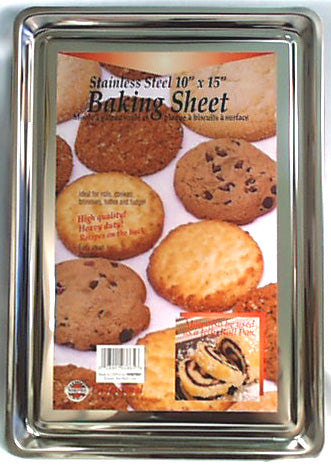 Baking Sheet (15 x 10 x 1)
Regular price $18.75 Sale
---
Limited Items Selling Fast
poup with stuff in it
close
---
Baking Sheet (15 x 10 x 1)
Stainless steel 10" x 15" baking sheet. Ideal for rolls, cookies, brownies, toffee and fudge! May also be used as a Jelly Roll Pan. High quality, heavy duty, easy clean, durable.
Use and care for your stainless steel: Before use, remove all stickers and labels, wash thoroughly with warm soapy water, rinse and dry.
Do not let stainless steel items boil dry or allow dry stainless steel to remain on a hot electric unit or gas burner. If excessively overheated, the bottom may melt. Should melting occur, do not attempt to remove from burner until cookware has cooled.
Discoloration (blue or grayish stains) may occur due to cooking at high heat or cooking with starchy foods (rice, potatoes, peas, and beans).
Cleaning: Wash cookware with hot soapy water. For burned on food, use a nylon or plastic scouring pad.
Do not use steel wool as it may scratch and dull the finish.
Made in China.
Real time shoppers on site
stock running low.