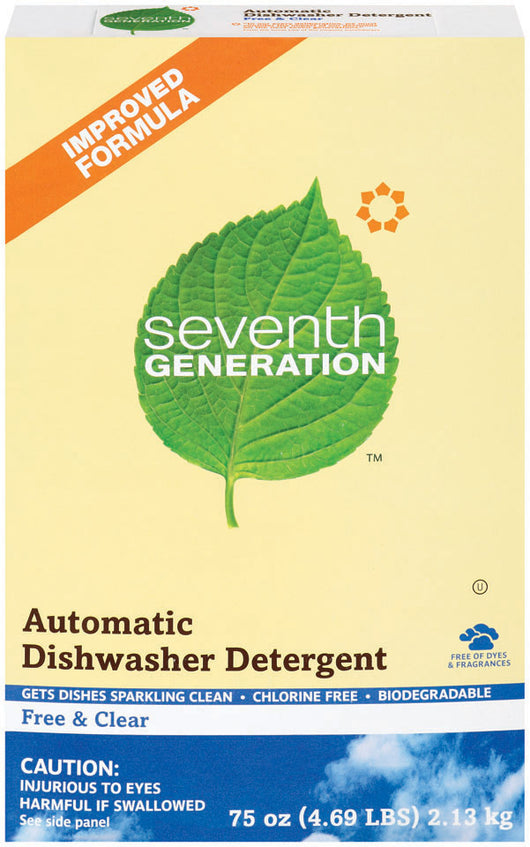 Automatic Dish Powder, Free & Clear
Regular price $10.99 Sale
---
Limited Items Selling Fast
poup with stuff in it
close
---
Automatic Dish Powder, Free & Clear
Natural automatic dishwashing detergent. Gets dishes sparkling clean. Non-toxic, biodegradable, no chlorine bleach, no phosphates. Free & clear of perfumes, artificial fragrances, and dyes. No NTA or EDTA. Safe for septic and greywater systems.
Your purchase of this phosphate and chlorine free product helps reduce the risk of harm to our lakes and ponds and keep chlorine's dangers out of the environment.
What are phosphates? Phosphates are used in automatic dishwashing detergents to soften water. Phosphates can cause algae blooms in lakes and ponds that can lead to the suffocation of aquatic plants and animals.
Why is chlorine bleaching dangerous? The production and use of chlorine bleach creates dangerous toxins such as dioxin, furans and other organochlorines. Once loose in the environment, these chemicals accumulate in both people and animals. Hundreds of studies have shown a direct link between dioxin exposure and cancer, birth defects and developmental and reproductive disorders.
Our Free & Clear automatic dishwasher detergent gets dishes sparkling clean yet is gentle on the Earth. Unlike conventional automatic dishwasher detergents with chlorine, ours won't create chlorine fumes that may be irritating to breathe especially for people with allergies or asthma.
We disclose all INGREDIENTS: Water softeners (sodium carbonate, citric acid), cleaning and water spot prevention agents (coconut based surfactant, non-toxic polymers), china and dishwasher protection agent (sodium silicate), processing and flow aids (sodium chloride [a natural salt], sodium sulfate), multiple soil/stain removers (sodium perborate, non-animal derived enzymes).
For best results: Load dishes with soiled surfaces facing spray (do not block spray to top rack). Fill dispenser cups completely for hard water or heavily soiled loads. Use less for soft water or light loads. A rinse aid is recommended for very hard water. Separate silver, aluminum, and stainless steel to avoid damage. Follow china manufacturer's instructions to make sure items are dishwasher safe. Washing full loads conserves water.
Caution: Eye irritant. Harmful if swallowed. Keep out of reach of children. In case of eye contact, flush with water for at least 15 minutes. If swallowed, drink a glassful of water. Contact a physician.
Why is the word "Caution" used on our product? Even though this product is non-toxic, we still need to use "caution" because all powders can cause eye irritation and harm if swallowed.
To maintain freshness, close between uses. Store in a cool, dry place.
Unlike many conventional cleaning products, we use only those ingredients that do not pose any chronic health risks and are safe for the environment.
Individual packages of this product may weigh slightly more or less than the marked weight due to normal variations incurred with high speed packaging machines, but each day's production averages slightly above the marked weight.
Not tested on animals.
Kosher Certified.
Made in Canada.
Real time shoppers on site
stock running low.