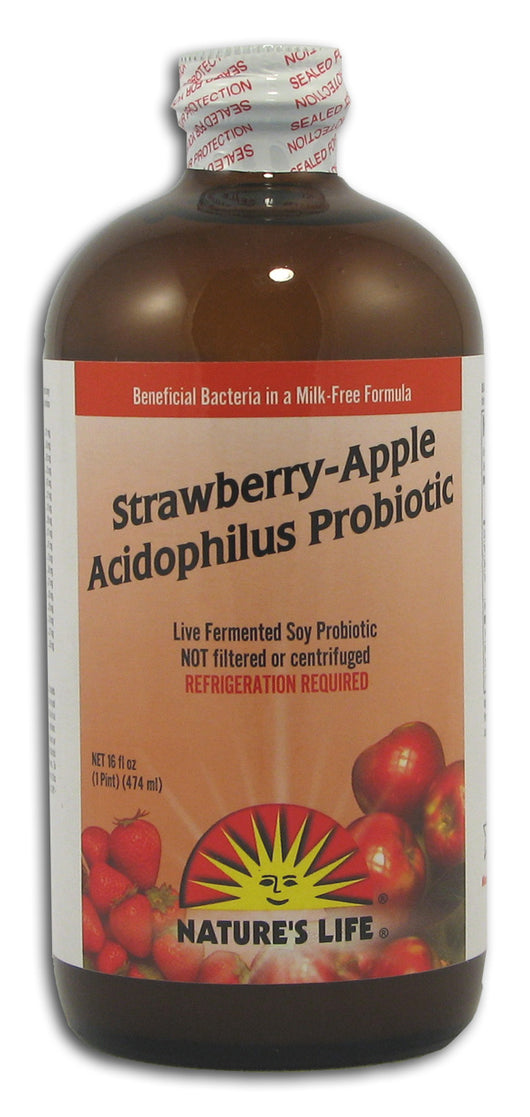 Acidophilus Liquid Straw Dairy-free
Regular price $13.75 Sale
---
Limited Items Selling Fast
poup with stuff in it
close
---
Acidophilus Liquid Straw Dairy-free
Nature's Life Strawberry-Apple Acidophilus Probiotic. Beneficial Bacteria in a Milk-Free Formula. Live Fermented Soy Probiotic. Not filtered or centrifuged. Refrigeration Required.
Nature's Life Strawberry-Apple Acidophilus is a perfect choice for those who want high quality friendly bacteria but are intolerant of dairy-based acidophilus cultures. Our unique strain of viable Lactobacillus acidophilus is cultured in dairy-free Non-GMO soy protein isolate, strawberry and apple juice concentrates, and honey. When manufactured this potent probiotic contains a billion organisms per servings. In addition to the actual beneficial organisms this culture contains all of the acidophilus' nutritionally valuable metabolic by-products such as naturally-occurring vitamins, mineral metabolites and enzymes.
Nature's Life guarantees that NO ingredients other than those listed on this label have been added to this product.
Suitable for Vegetarians.
This is a natural product and amounts vary from lot to lot; however, a Typical Amino Acid Profile for one serving is:
Alanine 31 mg
Arginine 56 mg
Aspartic 86 mg
Cystine 10 mg
Glutamine 142 mg
Glycine 31 mg
Histidine* 19 mg
Isoleucine* 36 mg
Leucine* 61 mg
Lysine* 47 mg
Methionine* 10 mg
Phenylalanine* 38 mg
Proline 37 mg
Serine 38 mg
Threonine* 28 mg
Tryptophan* 10 mg
Tyrosine 27 mg
Valine* 36 mg
*Essential Amino Acid
This quality Nature's Life product meets our Quality Assurance Procedures and Good Manufacturing Practices. Quality You Can Trust.
INGREDIENTS: Purified Water, Apple and Strawberry Juice Concentrates, Pasteurized Honey, Non-GMO Soy Protein Isolate, live Lactobacillus Acidophilus Culture and Potassium Sorbate.
Nutrition Facts
Serving Size: 2 Tablespoons (30 ml)
Servings Per Container: About 16
Nutrient Amount %DV
Calories 10
Total Fat 0 g 0%
Sodium 10 mg <1%
Total Carbohydrate 3 g <1%
Sugars 3 g
Protein <1 g
Fiber 0.1 g
Vitamin A 0%
Vitamin C 0%
Calcium 3%
Iron 0%
Not a significant source of Calories from Fat, Saturated Fat, Cholesterol or Dietary Fiber.
Suggested Use: Take two (2) tablespoons (1 fl. oz. or 30 ml) as desired. Do not take within 2 hours of taking antibiotics.
Store in a cool, dry place safely away from children.
NOTE: This cultured probiotic contains active, viable organisms. To preserve the maximum potency this product should be refrigerated at 38-45 degrees F (3-7 degrees C).
Made with Pride in the USA.
Real time shoppers on site
stock running low.