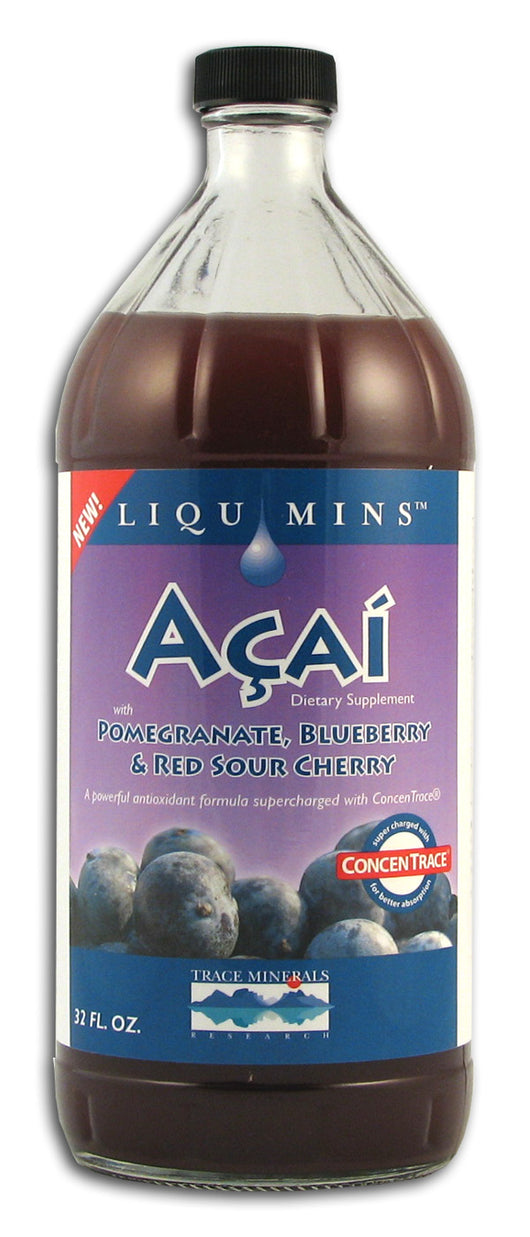 Acai w/Pom, Blueberry & Sour Cherry
Regular price $29.50 Sale
---
Limited Items Selling Fast
poup with stuff in it
close
---
Acai w/Pom, Blueberry & Sour Cherry
Acai with Pomegranate, Blueberry and Red Sour Cherry. Dietary Supplement. A powerful antioxidant formula super charged with ConcenTrace for better absorption.
The Acai berry (pronounced ah-sigh-EE) is one of the most nutritious and most powerful foods in the world. Native to tropical Central and South America, from Belize to the Brazilian Amazon, the Acai is a delicious, highly-prized purple berry that possesses potent antioxidant properties. These antioxidant nutrients help to seek out and destroy roaming free radicals that can frustrate good health and drain your body of energy.
Acai from Trace Minerals Research contains natural fruit juices from pomegranate, blueberry, red sour cherry and other fruit juices to provide the maximum antioxidant nutrients available in one supplement.
Acai is also rich in B vitamins, vitamin E, minerals such as iron and calcium, fiber, proteins, Omega fatty acids, amino acids and anthocyanin, a member of the flavonoid class of antioxidants.
Acai is superior to similar products due to our proprietary ionic complex of over 70 trace minerals and elements from ConcenTrace. These ions help to supercharge the nutrients for greater absorption and assimilation for optimum health benefits.
INGREDIENTS: Purified Water, Acai Juice Concentrate, Blueberry Juice Concentrate, Pomegranate Juice Concentrate, Red Sour Cherry Juice Concentrate, Red Grape Juice Concentrate, Mixed Fruit Concentrate, Ionic Trace Minerals Complex, Xanthan Gum.
Plus over 72 ionic trace minerals and elements found in sea water.
Supplement Facts
Serving Size: 1 ounce
Servings Per Container: 32
Nutrient Amount %DV
Calories 12 <1%
Total Carbohydrates 3 g <2%
Sugars 3 g
Vitamin C (Ascorbic Acid) 60 mg 100%
Vitamin E (d-a tocopherol acetate) 30 IU 100%
Proprietary Antioxidant Blend 6000 mg *
Acai Juice Concentrate
Pomegranate Concentrate
Blueberry Concentrate
Red Sour Cherry Juice Concentrate
Red Grape Juice Concentrate
Mixed Fruit Concentrate
ConcenTrace Ionic Trace Minerals 500 mg *
*Daily Value not established.
Shake Well. Refrigerate After Opening.
Suggested Use: Take 2 Tablespoons 1-3 times daily with food or mixed into your favorite beverage.
Allergen Info.: Contains no known allergens.
Real time shoppers on site
stock running low.