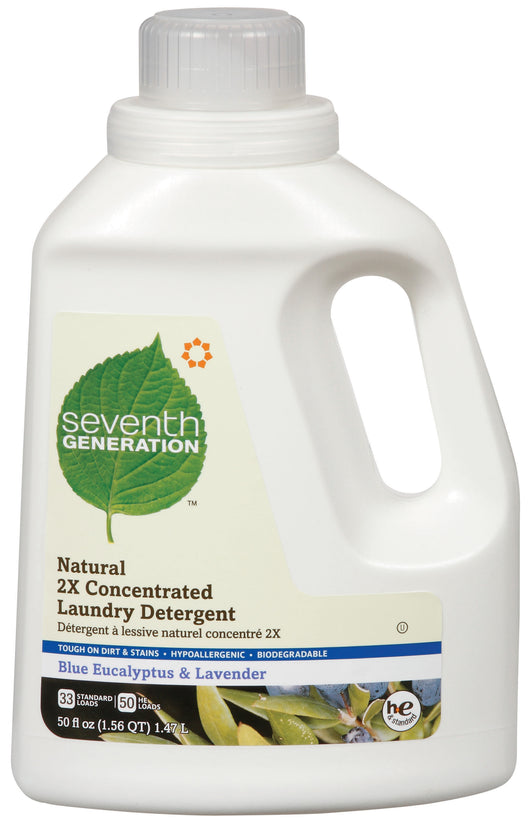 2x Ultra Conc, Blue Euc & Lav 32 loa
Regular price $68.99 Sale
---
Limited Items Selling Fast
poup with stuff in it
close
---
2x Ultra Conc, Blue Euc & Lav 32 loa
Seventh Generation Natural Laundry Detergent, Blue Eucalyptus & Lavender. Non-Toxic, Biodegradable, Hypo-Allergenic. Tough on Dirt and Stains. 2x Ultra Concentrated. Use less. Free of Dyes. Specially formulated for HE and standard machines.
"In our every deliberation, we must consider the impact of our decisions on the next seven generations." -- from The Great Law of The Iroquois Confederacy.
You Are Making A Difference: If every household in the U.S. replaced just one bottle of 50 oz. 2x ultra petroleum based liquid laundry detergent with our 50 oz. 2x ultra vegetable based product, we could save 233,000 barrels of oil, enough to heat and cool 13,400 U.S. homes for a year!
Non-toxic. Biodegradable. NO optical brighteners. NO petroleum based cleaners. NO dyes. NO phosphates. Safe for septic and greywater systems. Fights stains with non-animal derived enzymes.
Our natural laundry detergent features a unique combination of plant based surfactants and enzymes to power out even the toughest stains. Unlike conventional laundry detergents, it won't leave residues that may irritate sensitive skin. We use only ingredients that do not pose chronic health risks and are safe for the environment. We disclose all our ingredients.
INGREDIENTS: A low-foaming blend of naturally derived Cleaning Agents (Coconut-derived Surfactants, Glycerin), Natural Water Softeners, Alkalinity Builders, and Anti-redeposition Agents (Sodium Citrate, Borax), Non-animal derived Enzymes to remove protein and starch stains and protect fabrics, Plant derived Anti-foaming Agents (Glycerol Monooleate, Oleic Acid), Natural Scent (Eucalyptus, Lavender, and Pine Whole Plant Essences), Cleaning Enhancer (Calcium Chloride), Preservative (less than 0.05%) Water.
For Best Results: Sort -- Follow garment care label instructions. Pretreat -- Pour directly on stained fabric. Rub gently. Allow to soak before washing. Measure -- Measure with the cap. For standard machines, fill to line 1 inside cap for medium loads. Use less for light loads or soft water. Use more for large loads, heavily soiled clothes, or hard water. For HE machines, use about 2/3 as much. Pour -- Pour into washer as it fills with water, then add laundry. Use dispenser if available. Washing full loads helps conserve water.
Caution: Eye irritant. In case of eye contact, flush with water for at least 15 minutes. If swallowed, drink a glassful of water, contact a physician.
Not tested on animals.
No animal ingredients.
Kosher OU.
Made in USA
Real time shoppers on site
stock running low.