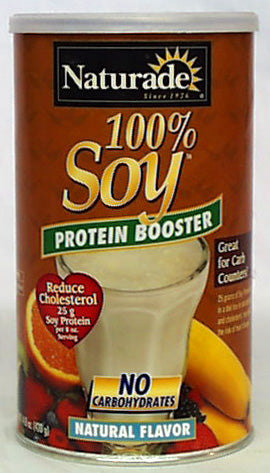 100% Soy Protein Powder
Regular price $14.99 Sale
---
Limited Items Selling Fast
poup with stuff in it
close
---
100% Soy Protein Powder
Naturade soy free vegetable protein booster is an important product for people who exclude meat and dairy from Naturade 100% soy protein booster. Reduce cholesterol. No carbohydrates.
Soy protein is one of nature's true miracle foods! Just one serving of Naturade 100% Soy protein booster daily supplies all 25 grams of the soy protein you need to fight America's number one killer of both men and women. The Food and Drug Administration has recognized that 25 grams of soy protein daily may reduce the risk of heart disease when used in a diet low in saturated fat and cholesterol. Over 40 clinical studies show that soy protein helps lower total and LDL cholesterol.
Naturade 100% soy protein booster is concentrated protein with no carbohydrate. It's ideal for someone trying to manage their carbohydrate intake. As a protein booster it provides a balanced profile of all the amino acids your body needs, including the essential amino acids that your body cannot produce on its own. It rates a perfect 1.0 on the FDA's protein digestibility (PDCAAS) score, equivalent in quality to animal protein.
Naturade 100% soy is made with non-GMO soybeans. Our Identity Preservation (IP) process assures you that the genetic integrity of our soybeans has been maintained throughout planting, harvesting and processing - just as nature intended.
Blend Naturade 100% soy with yogurt, fruit and nuts to make delicious smoothies with added protein.
No aspartame, no acesulfame K, no artificial sweeteners. No artificial flavors, colors or preservatives. No MSG, no sucrose, lactose free, yeast free. No egg, dairy or animal derivatives.
Suitable for vegetarians.
INGREDIENTS: Soy Protein Isolate, Calcium Citrate, Phytonutrient Blend (Carrot, Tomato, Broccoli, Cabbage, Spinach), Soy Lecithin, Enzyme Blend (Bromelain, Papain), Natural Flavors.
Nutrition Facts
Serving Size: 1/3 cup (30 g)
Servings per Container: 14
Nutrient Amount % DV
Calories 110
Calories from Fat 10
Total Fat 1 g 2%
Saturated Fat 0 g 0%
Cholesterol 0 mg 0%
Sodium 320 mg 13%
Potassium 45 mg 1%
Total Carbohydrate 0 g 0%
Dietary Fiber 0 g 0%
Sugars 0 g
Protein 25 g 50%
Vitamin A 0%
Vitamin C 0%
Calcium 15%
Iron 10%
Phosphorus 25%
Typical Amino Acids
Per 30 g serving Amount
Isoleucine 1264
Leucine 2104
Lysine 1634
Methionine 323
Phenylalanine 1340
Theronine 987
Tryptophan 352
Valine 1293
Alanine 1104
Arginine 1957
Aspartic Acid 2986
Cystine 323
Glutamic Acid 4915
Glycine 1087
Histidine 676
Proline 1310
Serine 1340
Tyrosine 970
Directions: Drinks and smoothies: Stir or shake 1/3 cup into 8 ozs of milk, soymilk or your favorite juice. For a delicious smoothie add it to crushed ice and fruit in a blender.
Food preparation: Use in cooking to add protein to sauces, soups, stews and casseroles or to cereals, pancakes and muffins. Natural flavor has little taste so you can add it to most foods.
Notice: Use this product as a food supplement only. Do not use for weight reduction.
Real time shoppers on site
stock running low.