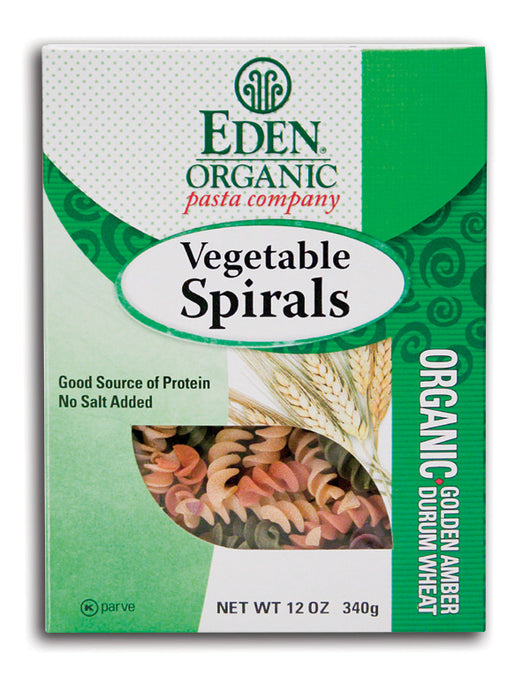 Vegetable Spirals, Organic
---
Limited Items Selling Fast
poup with stuff in it
close
---
Vegetable Spirals, Organic
Vegetable Spirals. Good Source of Protein. No Salt Added. Organic Golden Amber Durum Wheat.
Golden amber durum wheat, family farm organically grown on the high plains of Montana and North Dakota. Shaped using an Italian brass die, each color is made separately in its own small batch, patiently dried, and mixed all together just before packaging. Organic vegetables give these spirals their festive colors.
A pantry staple, this shape is ideal for holding generous amounts of chunky sauce. Peter's favorite.
What a gem we have in the Eden Organic Pasta Company. A Detroit landmark crafting pasta in small batches since 1923, it still has the original Italian fixtures like artisan brass dies, noodle rollers, and macaroni dryers. Best of all are its people who care: Bud, Cathy, Jeridine, Jim, Maryanne, Odess, Peter, Robert, Roseanne, Steve, Tasha and Terry.
Authentically Organic. Eden selection, meticulous tracking and audited records guarantee the purity of this food from the farm to your table. Double Certified Organically Grown.
INGREDIENTS: Organic Golden Amber Durum Wheat Semolina, Organic Beet Powder, Organic Spinach Powder, Organic Carrot Powder, Organic Annatto Powder.
Nutrition Facts
Serving Size: 1/2 cup (55 g)
Servings per Container: 6
Nutrient Amount %DV
Calories 200
Calories from Fat 10
Total Fat 1 g 1%
Saturated Fat 0.4 g 0%
Trans Fat 0 g
Cholesterol 0 mg 0%
Sodium 0 mg 0%
Potassium 135 mg 4%
Total Carbohydrate 40 g 13%
Dietary Fiber 2 g 8%
Sugars 1 g
Protein 8 g 16%
Vitamin A 2%
Vitamin C 0%
Calcium 2%
Iron 6%
Thiamin 8%
Riboflavin 2%
Niacin 8%
Folate 2%
Phosphorus 10%
Magnesium 10%
Zinc 6%
To Prepare: Cook in boiling water 7-10 minutes.
Kosher Parve.
Real time shoppers on site
stock running low.