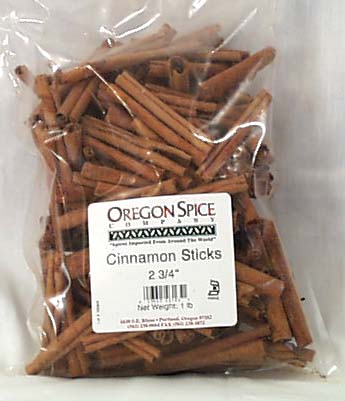 Cinnamon Sticks, 2.75 Cut"
---
Limited Items Selling Fast
poup with stuff in it
close
---
Cinnamon Sticks, 2.75" Cut
Cinnamon, as marketed, is tan to reddish brown quills (sticks) of rolled bark in varying lengths, available in both sticks and powder. It is agreeably aromatic with a sweet, pungent taste.
Use to flavor sweet and apple-based baked goods, apple sauce and butter, baked beans, sweet and mixed vegetable pickles, chili sauce, pickled beets, prune butter, spiced fruits and ketchup. Use as a garnish on pickles, relishes, pickled meats and seafood, spiced fruits.
Oregon Spice Company, established in 1980, is dedicated to bringing to its customers only the freshest, highest quality herbs and spices from around the world. Strict dedication to quality, to ensure only the cleanest, most natural products possible. Discover the difference in their superior products!
Real time shoppers on site
stock running low.